HASBRO TO UNVEIL 40TH ANNIVERSARY "G.I. JOE" PRODUCT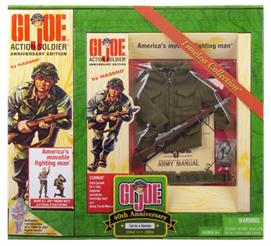 Special Edition Figures Are Replicas of First Four "G.I. JOE" Figures from 1964

Nearly 40 years ago, Hasbro, Inc. revolutionized the toy industry when it introduced "G.I. JOE" the world's first action figure, in 1964, and in the process, created an American icon.

Generations and millions of figures later, Hasbro is honoring the 40th anniversary of G.I. JOE in 2004 by releasing a line of 40th anniversary special edition figures this summer.

The G.I. JOE preview collection includes authentic reproductions of the original four G.I. JOE figures launched in 1964 - one for each branch of the military (Army, Navy, Marine, and Air Force). The preview line will feature the same outfits, packaging and accessory sets as originally released.

The anniversary series will continue in 2004, with 24 total "40th Anniversary" products rolling out in waves through the end of next year.

"Hasbro's G.I. JOE line evokes memories of backyard adventures and fun for millions of men and boys," said Derryl DePriest, Director of Marketing for Hasbro's G.I. JOE brand.

"G.I. JOE is an icon of heroism and adventure, and we hope our fans will enjoy replicas of the first figures which started it all almost 40 years ago."

G.I. JOE figures made their debut in 1964 as an 11-1/2 inch action figure with 21 moving parts. In recent years, the G.I. JOE brand has seen a sales resurgence, highlighted by four consecutive years of double-digit growth.