FIRST HASBRO "G.I. JOE" FOR SALE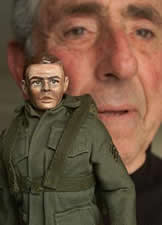 $600,000+ Original "G.I. Joe" Action Figure To Be Sold By HERITAGE COMICS AUCTIONS
The first prototype "G.I. JOE" action figure, hand-carved in 1963 by designer Don Levine of Providence, R. I., is expected to sell for $600,000 or more when it is offered for sale in July by Heritage Comics Auctions, Dallas, Texas.

The sale will also include dozens of other original G.I. Joe memorabilia and artwork from Levine's personal collection.

"The handmade, hand-painted figure is the first mockup of the G.I. Joe action figure, and it is a unique piece of American cultural history," said John E. Petty, Director of Auctions for Heritage Comics.

"The sale also will have the original G.I. Joe 'Navy' figure and the first G.I. Joe scuba suit that Mr. Levine created from a piece of inner tube tire."

Those two items are expected to sell for $25,000 each.

The original handmade action figures, along with dozens of pieces of artwork and other early G.I. Joe memorabilia items, were picked up in Providence, Rhode Island by armored car security guards and transported to Dallas to be photographed and cataloged for this summer's auction.


Levine was Vice President of Research and Development at Hassenfeld Brothers, Inc. (later renamed Hasbro Toys) in 1963 when he created G.I. Joe and the first of the action figure's many accessories. He based the toy's concept on the success of the Barbie(tm) doll and its many accessories that are sold separately.

"It was the old razor-and-the-razor-blade concept," Levine explained. "Sell them the action figure - "the razor" - and then sell them an awful lot of razor blades - the toy's accessories - along the way."

"G.I. Joe was an instant success, and it became 'THE' toy for a generation of boys worldwide," said Greg Rohan, President of Heritage. "The opportunity to now sell these original mockups and art work has rekindled all kinds of fond childhood memories for me."

Among the many other early G.I. Joe items to be included in the sale, July 17 - 20 in San Diego in conjunction with the Comic-Con International convention, are:


The first handmade G.I. Joe figure with articulated limbs (estimated at $75,000); original boxes of "Ace Fighter Pilot," "Rocky Marine" and "Skip Navy" ($25,000 each); and original hand drawn boxes for "Action Soldier," "Action Sailor" and "Action Marine" ($35,000 each).

Last year, Heritage Comics Auctions set comic book world records when it sold the comic book reference collection of 'Spider-Man' co-creator Stan Lee, and the $1.68 million vintage comic book collection of Academy Award-winning actor Nicolas Cage.